I just bought a Lexar 1066x 256GB UHS-I microSD Card, but found that it can't perform as package stated as 160MB read and 120MB write. I got 96MB read and 88MB write. I searched and found a web site can perform that speed using a Lexar 2 in 1 Multi-Card reader LRW450U and I bought the same reader but also can not achieve the speed.
https://www.pctestbench.com/lexar-professional-silver-microsdxc-review/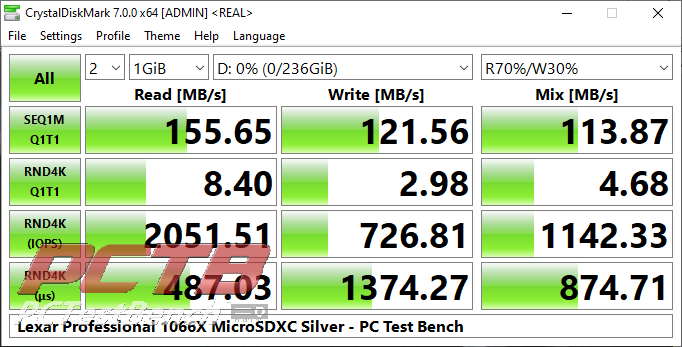 I have three UHS-II reader as following but also have same problem:
1) Kingston UHS-II micro SD Card reader MLPM
2) Transcend USB3.2 Gen 2 hub with UHS-II Reader TS-HUB5C
3) Lexar 2 in 1 Multi-Card Reader LRW450U
I doubt that that the readers may have speed problem. At least I found a new firmware for Lexer LRW450U in Lexer web site so I updated the firmware and now it can achieve speed that I expected:

So I updated all firmware for above UHS-II readers and they can archived the same maximum speed.